With international disability awareness day quickly approaching, we wanted to put together some caregiving tips and highlight the importance of support for the family and friends of those with physical disabilities. As social workers, we often have patients with spinal cord injuries, traumatic brain injuries, and patients who are recovering from a stroke. We thought it would be a good idea to share some tips for friends and family to use as a guideline when trying to support their disabled loved ones. 
Educate yourself on the specific disabilities at hand.
The best starting point in supporting those with disabilities is to understand the disability at hand. Is it a permanent condition? What are the main daily struggles that the patient will face? Are they in pain? Is there a chance of recovering? It's important that you answer all of these questions in order to understand and discuss any issues with others involved in the care of your family member or friend. By being informed of the disability, you will be able to make a knowledgeable decision should the need arise. 
Use your knowledge to become an advocate.
Now that you have researched and learned all you can about the disability, it is important that you be an advocate for your family member or friend. Ask questions, inform other caregivers of and circumstances or special conditions surrounding the patient's condition. 
Calling ahead and checking wheelchair accessibility.
Warn doctors or nurses of any latex or medication allergies. 
Keep the medical history of your friend/family member on hand and up to date.
Become familiar with the rights of the Human Rights of Disabled Persons in your country. This way you will know how and when to apply them to your situation.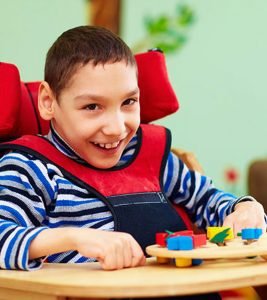 Try and maintain the balance in the patient's life.
We have found that attempting to maintain the balance in a patient's life assists with the emotional and mental support of the situation. Even though your friend/family member with a disability might require extra care, time, and attention. Make sure to take some time for family members involved. This is especially crucial when children are involved. Most adults want to live independently within society and you can help them do so by ensuring that they have access to the support and services that they require. Remember that your health matters too, you need to ensure you are tending to your own needs. Tending to and caring for a friend or family member with a disability can easily wear out the strongest caregiver. Take time to ensure you are looking after yourself as well as your friend/family member. 
The importance of support from friends and family members.
There are many ways in which friends and family can provide support. Here is a list of some things you can do to show your support during this difficult time: 
Join a support group. This can help you share information, educate yourself and connect with other caregivers in similar situations. Support groups have also been known to help with isolation and the fear of being a caregiver. 
Lend an ear and listen to the patients' issues and concerns, see how you can help resolve some daily struggles they are facing.
Don't make assumptions – instead of just assisting, rather offer assistance and wait for a response before acting. 
Be patient and give it time, the first few visits with your loved one may be hard on both parties involved. Have patience and stay educated on their condition and over time, your visits or time together will become easier. 
Be Empowering – focus on what you and your friend or family member can do with a disability instead of focusing on all the things you can't do together.
Celebrate appropriate milestones.
Help empower your friend/family member to speak about their condition when someone asks questions. 
With time, you can slowly help teach your friend/family member to be as independent as possible. This will help them feel self-assured. As with anything in life, the support from a friend or a family member can help us feel stronger and capable of achieving even the toughest tasks. Your support, love, and caring actions are of extreme importance and it does not go unnoticed.